Overview
Although many people with plantar fasciitis have heel spurs, spurs are not the cause of plantar fasciitis pain. One out of 10 people has heel spurs, but only 1 out of 20 people (5%) with heel spurs has foot pain. Because the spur is not the cause of plantar fasciitis, the pain can be treated without removing the spur.
Causes
A heel spur can develop when there is an abundance of calcium creating a deposit in the calcaneus, or heel bone. Over time, this deposit grows to create an outcropping under the heel that extends into the foot. The result is a protrusion that leads to foot pain when pressure is applied, and in some cases, even during rest.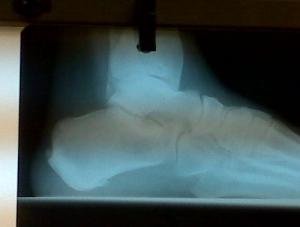 Symptoms
You may or may not experience any symptoms with your heel spurs. It is normally the irritation and inflammation felt in the tissues around your heel spur that cause discomfort. Heel pain is one of the first things you may notice, especially when pushing off the ball of your foot (stretches the plantar fascia). The pain can get worse over time and tends to be stronger in the morning, subsiding throughout the day; although it does return with increased activity. A sharp, poking pain in your heel that feels like you're stepping on a stone can often be felt while standing or walking. You will sometimes be able to feel a bump on the bottom of your heel, and occasionally bruising may appear.
Diagnosis
Most patients who are suffering with heel spurs can see them with an X-ray scan. They are normally hooked and extend into the heel. Some people who have heel spur may not even have noticeable symptoms, although could still be able to see a spur in an X-ray scan.
Non Surgical Treatment
Heel spurs and plantar fasciitis are treated by measures that decrease the associated inflammation and avoid reinjury. Local ice applications both reduce pain and inflammation. Physical therapy methods, including stretching exercises, are used to treat and prevent plantar fasciitis. Anti-inflammatory medications, such as ibuprofen or injections of cortisone, are often helpful. Orthotic devices or shoe inserts are used to take pressure off plantar spurs (donut-shaped insert), and heel lifts can reduce stress on the Achilles tendon to relieve painful spurs at the back of the heel. Similarly, sports running shoes with soft, cushioned soles can be helpful in reducing irritation of inflamed tissues from both plantar fasciitis and heel spurs. Infrequently, surgery is performed on chronically inflamed spurs.
Surgical Treatment
Heel spur surgery should only be considered after less invasive treatment methods have been explored and ruled insufficient. The traditional surgical approach to treating heel spurs requires a scalpel cut to the bottom of the food which allows the surgeon to access the bone spur. Endoscopic plantar fasciotomies (EPF) involve one or two small incisions in the foot which allow the surgeon to access and operate on the bone spur endoscopically. Taking a surgical approach to heel spur treatment is a topic to explore with a foot and ankle specialist.
Prevention
o help prevent heel and bone spurs, wear properly designed and fitted shoes or boots that provide sufficient room in the toe box so as not to compress the toes. They should also provide cushioning in appropriate areas to minimize the possibility of the irritation and inflammation that can lead to bone spurs in the feet. If needed, use inserts that provide arch support and a slight heel lift to help ensure that not too much stress is placed on the plantar fascia. This helps to reduce the possibility of inflammation and overstress. Wearing padded socks can also help by reducing trauma. Peer-reviewed, published studies have shown that wearing clinically-tested padded socks can help protect against injuries to the skin/soft tissue of the foot due to the effects of impact, pressure and shear forces. Also consider getting your gait analyzed by a foot health professional for appropriate orthotics. If you have heel pain, toe pain or top-of-the-foot pain, see your doctor or foot specialist to ensure that a spur has not developed.